---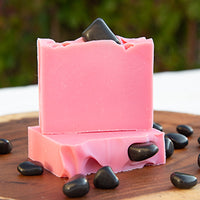 Harmony Gemstone Soap
The Science of Bliss
Experience the serene essence of Harmony handcrafted aoap, a testament to the beauty of balance and tranquility. Let this soap transport you to a realm where harmonious connections flourish, and inner peace becomes your guiding light.
Indulge in the captivating fragrance of fresh fruits, including pineapple and blackcurrant, complemented by delicate notes of orchid, rose, and violet. This enchanting blend harmonizes effortlessly, creating an olfactory symphony that evokes a deep sense of tranquility and grace.
Infused with a tumbled black tourmaline gemstone, Harmony soap embodies the power of peace and clarity. It is our hope that this gemstone will gently guide you through life's complexities, bringing forth a sense of calmness and newfound clarity when facing challenging decisions.
Embrace the art of balance and let "Harmony" Handcrafted Soap restore equilibrium to your daily rituals. Set your intentions on a world where relationships thrive, self-discovery blossoms, and serenity becomes your constant companion.
**Note:**  A few bars are available with two smaller tourmaline stones instead of one larger stone. If you would like one of these, please mention it in the comments upon checkout. 
Ingredients:
Water, Olive Oil, Safflower Seed Oil, Coconut Oil, Palm Oil, Sodium Hydroxide, Fragrance, Cocoa Butter, Shea Butter, Castor Oil, Tourmaline Gemstone, Color.